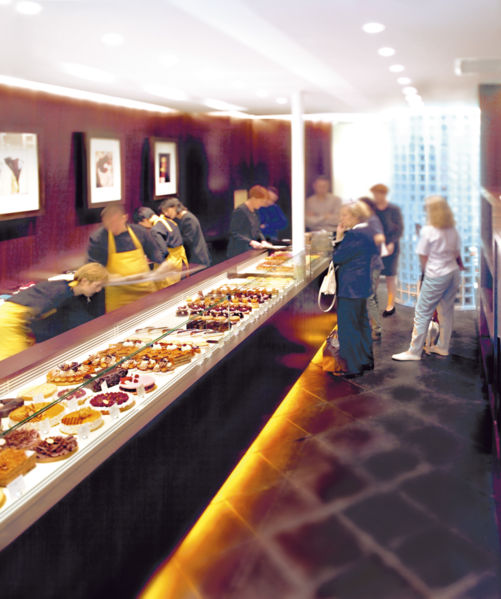 Jean-Paul Hévin: chocolate pastries.
231 rue Saint-Honoré, Paris 1er.
3 rue Vavin, Paris 6e.
23 bis avenue de la Motte Picquet, Paris 15e.
Pierre Hermé: macaron, truffle, croissant.
72 rue Bonaparte, Paris 6e.
185 rue de Vaugirard, Paris 15e.
La Pâtisserie des Rêves: Paris-Brest.
Philippe Conticini.
93 Rue du Bac, Paris 7e.
111 Rue de Longchamp, Paris 16.
"Les classiques":
Lenôtre, the first shop, 44, rue d'Auteuil 75016: the Opéra, the Succès and Feuille d'Automne.
Dalloyau, 2, place Edmond Rostand, 75006, and 6 other shops in Paris: the Opera Cake, the best macarons, and éclairs chocolat et café, Religieuse, baba…
Ladurée, the inventor of the macaron, the most famous shop: 75 Av. des Champs-Élysées, 75008.
Also Try:
Arnaud Larher, 93 Rue de Seine 75006 for la tarte au citron et le Paris-Brest.
Pain de sucre, 14 rue Rambuteau 75003, for le baba au rhum.
L'éclair de génie de Christophe Adam, 13 rue de l'Ancienne Comédie 75006 for l'éclair.
Gâteaux Thoumieux, 58 rue Saint-Dominique 75007 Paris, for le chou-chou.
Des Gâteaux et du Pain, 63 Boulevard Pasteur 75015 for le mille-feuille vanille.
Carl Marletti, 51 Rue Censier, 75005, for le fraisier.
Sandrine et Sébastien Dégardin, 200, rue Saint-Jacques 75005  for le Passiflore et la tarte au citron, not too expensive.
Plus d'information sur Qwant: