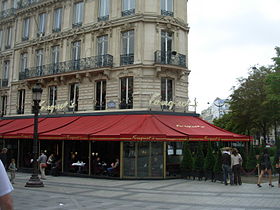 Founded in 1899, Fouquet's is a popular cafe-restaurant, on the corner of avenue George V and the Champs-Elysées in the 8th district.
French dishes, created by the Chef Jean-Yves Leuranguer, "Meilleur Ouvrier de France" prizewinner.
French President Nicolas Sarkozy celebrated his electoral victory here in 2007 and place for Cesar Film Awards after-parties.
Address: 99 Avenue des Champs-Elysées, 8th arrondissement.
Plus d'information sur Qwant: