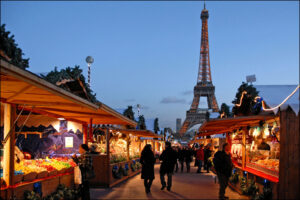 – On Avenue des Champs-Elysées: 200 wooden chalets between the Champs-Elysées roundabout to the Place de la Concorde, handicrafts and food from France and all over Europe. (18 November 2015 – 4 January 2016).
– At La Défense: 350 stalls on the parvis, a wide range of handmade crafts, food and decorations (19 November 2015 – 27 December 2015).
– At the Gare de l'Est: Alsatian food and drink and this year, all you need for your Christmas tree (Open 3 December 2015 – 18 December 2015).
– At Trocadéro: the European Christmas Village, a large outdoor ice rink, giant igloo and snowman and 100 wooden stalls with crafts and food from of European countries with a view of the Eiffel Tower (18 December 2015 – 3 January 2016).
And the others in famous places: Montmartre, Saint-Michel, and Montparnasse Tower.
Plus d'information sur Qwant: