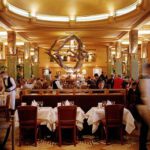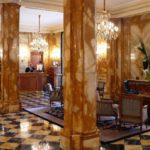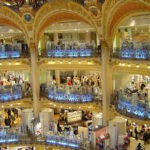 HOTELS: Hôtel de Crillon, one of the oldest luxury hotels in the world, located at the foot of the Champs-Élysées, 10 place de la Concorde, 75008. Amour, funky rooms individually decorated by Parisian avant-garde artists, close to Montmartre, 8 rue Navarin, 75009. Hotel d'Aubusson, a 17th-century town house in the historical district of Saint Germain Des Pres. Hôtel Luxembourg Parc, near the Luxembourg Gardens, a 17th-century house, the bedrooms are decorated in the styles of Louis XV, Louis XVI, and Napoleon III.
CAFES and BARS: Café de la Mosquée de Paris, 9 rue Geoffroy Saint-Hilaire, 75005. Angelina, 226 rue de Rivoli, 75001. Ladurée, 75 Avenue des Champs Elysées, 75008. Le Café Marly, Louvre, 93 Rue de Rivoli 75001. Café de l'Homme, Trocadéro, 75016. Ritz : Bar Vendôme, Bar Hemingway, Bar le Cambon, 15 Place Vendôme 75001.
RESTAURANTS:  L'ami Louis, bistro 32, rue de Vertbois 75003. Chez Allard, Bistro at Odeon, 1 rue de l'Eperon 75006. La Coupole, brasserie Art déco, 102, boulevard du Montparnasse 75014.
ICE CREAM: Berthillon, 31 Rue Saint-Louis en l'Ile  75004.
SHOPPING:  Galeries Lafayette 40 boulevard Haussmann, Printemps Haussmann no 64. Le Bon Marché: 24 rue de Sèvres, 75007. Haute Couture, avenue Montaigne and rue du Faubourg Saint-Honoré. The trendy rue des Francs-Bourgeois near Place des Vosges in Le Marais for fashion and decoration. The high-end rue de Seine, rue Jacob and rue du Bac in Saint-Germain des Pres for art and antiques. Puces de Paris Saint-Ouen, samedi, dimanche, lundi, 10h – 17h30.
EPICERIE FINE : La Grande Epicerie de Paris, 38 rue de Sèvres, 75007. Fauchon, Hédiard, place de la Madeleine 75008. Lafayette Gourmet, 40 boulevard Haussmann, 75009.
[hotels]
Plus d'information sur Qwant: