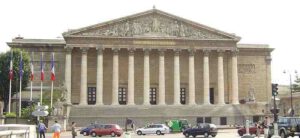 The Palais Bourbon
, a palace located on the left bank of the Seine, across from the Place de la Concorde,
is the seat of the French National Assembly
, the lower legislative chamber of the French government.
The palace was originally built
(1722-1728)
for the legitimised daughter of Louis XIV and Françoise-Athénaïs, marquise de Montespan – Louise-Françoise de Bourbon
. During the French Revolution the Palais Bourbon was nationalized.
hotels Paris ?
Assemblée Nationale