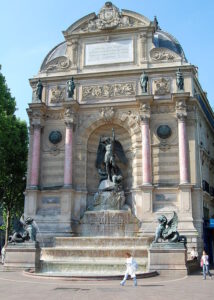 The Fontaine Saint-Michel
in Place Saint-Michel, 5th arrondissement in Paris, has different colors of stone, columns of
red
marble,
green
marble,
blue
stone,
yellow
stone and
bronze
statues.
Constructed in 1860 during the French Second Empire by the architect
Gabriel Davioud
.
The central figure: the Archangel Michael wrestling with the devil, by Francisque-Joseph Duret.
Two dragons on either side of the fountain by Henri Alfred Jacquemart.
The cardinal virtues: Statue of Prudence, Statue of Power, Statue of Justice, Statue of Temperance and Statues of Power and Moderation.