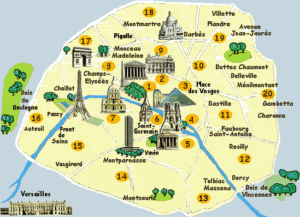 The city of Paris is divided into
twenty arrondissements
.  The number of the arrondissement is indicated by the last two digits in most Parisian postal codes (75001 up to 75020). The twenty arrondissements are
arranged in the form of a clockwise spiral, starting in the middle of the city.
1st Louvre 2nd Bourse 3rd Temple 4th Hôtel-de-Ville 5th Panthéon 6th Luxembourg 7th Palais-Bourbon 8th Élysée 9th Opéra 10th Enclos-St-Laurent 11th Popincourt 12th Reuilly 13th Gobelins 14th Observatoire 15th Vaugirard 16th Passy 17th Batignolles-Monceau 18th Butte-Montmartre 19th Buttes-Chaumont 20th Ménilmontant
Un hôtel pas cher Paris ?

hotels Paris ?